Curator: Dr. Allan B. Cruse, Professor Emeritus, Computer Science and Mathematics, University of San Francisco

&nbsp &nbsp &nbsp My personal encounters in Romania
&nbsp &nbsp &nbsp &nbsp &nbsp &nbsp &nbsp &nbsp &nbsp &nbsp &nbsp &nbsp &nbsp &nbsp &nbsp &nbsp An iPhone email blog
Allan, Are you back from Romania? I saw the piece MD forwarded about your trip. Have you written up more about your experiences? Steve
Steve, Yes, I'm home from my two-weeks in Romania. While I was there I wrote up several short descriptions of my encounters, usually accompanied by a photo, sent from my iPhone to my brother, as I doubted anyone else would be interested. Look below for an example. Allan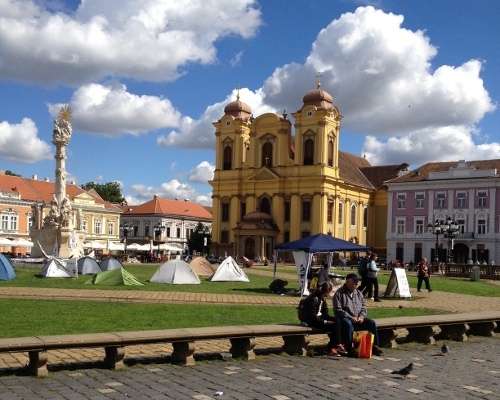 On being in a home movie
Just as I was snapping this photo of a landmark Church in the central square of Timisoara, I noticed that I was being videotaped by a local citizen in his late-40s, a grinning energetic fellow. Nothing I could do but smile, as he strode over and extended his hand for a friendly chat. Yes, he lives here and grew up here, and speaks English rather well; he remembers Ceausescu with distaste, and in fact participated in the 1989 Revolution, he told me, which began here very near this Square. "I was here every day," he said. "We could not understand why all the people in Bucharest were asleep -- it took them six days to wake up [Dec 17 till Dec 22], but they finally did and then their uprising forced Ceausescu out." Seeing my keen interest in his first-person account, he invited me to join him for lunch, but alas I had just finished eating and didn't have my wits about me enough to seize on that priceless opportunity, full stomach be damned. (18 September 2013)
Allan, What are the tents on the lawn in the picture? Steve

Steve, Those tents you see in my photograph belonged to protesters who have been mounting a sustained campaign to try and stop a toxic gold-mining project at a rural town named Rosia Montana (i.e., "Red Mountain") located in the Transylvania region of Romania. Their protests have been going on for several weeks, in cities all over Romania, and in many world capitals (e.g., Madrid, London, Toronto, New York). In Bucharest protesters were blocking traffic at several major intersections, and I could hear them simultaneously from my hotel room window and from the TV's newscast. (photo below) Gold has been mined at Rosia Montana since the days of the Roman Empire, and there are numerous sites there of historic significance. It's the largest known gold deposit in Europe. But at this point the only way to extract the remaining gold particles is through a chemical leeching process using cyanide, which protesters say will create a lasting environmental hazard and will destroy sites of archeological significance. Four mountains would get leveled to create a gigantic open pit to be filled with cyanide. All the residents will have to give up their homes and move. The pool of cyanide will be vast enough to be visible with the naked eye from space. (The slogan you see on the banner these protesters are carrying in the photograph below means, in Romanian, "Rosia Montana without cyanide!") The international politics behind all this is quite intriguing, but too involved to summarize briefly. It's yet another example of the fascinating stories from Romania that our mainstream media here in the USA mostly ignores, although hundreds of articles, video-clips, and photographs [e.g., see a few below] are readily accessible on the internet. Allan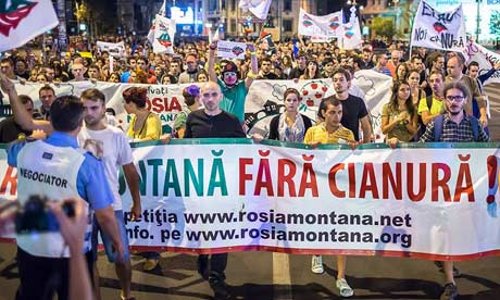 Marchers in Bucharest protesting a cyanide gold-mining project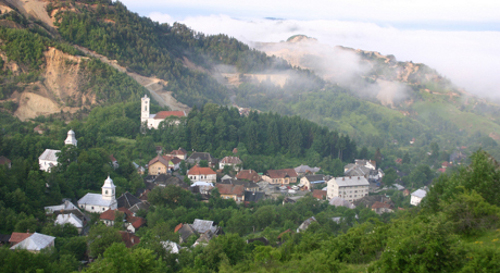 The rural mountain town of Rosia Montana in Transylvania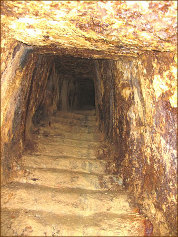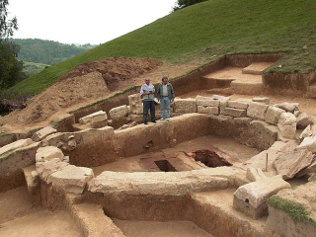 Roman mines, ancient graves from 2nd-century A.D. at Rosia Montana




Room with a view
All the 'standard' rooms at my hotel in Cluj-Napoca were booked, so for just the price of a standard room I was given the Venezia Suite, with an architectural feast to behold when I gazed out its window at downtown.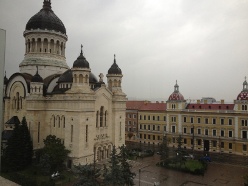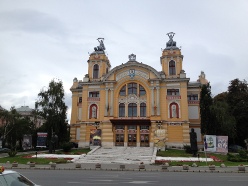 This Venezia Suite offers guests an amazing array of luxuries, such as two high-definition TVs (one in the king-size bedroom, one in a sitting room located down a hallway), an oversized bathtub and shower, with numerous gels, soaps, perfumes, lotions, and flavored toothpastes, a telephone in every room, a bedside radio, an espresso machine, and a switch that turns on dozens of tiny shimmering blue lights in the ceiling above the bed which twinkle like little stars -- very romantic, I presume.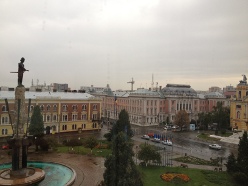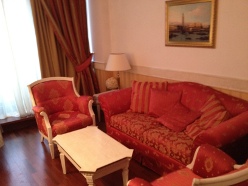 The hallway of this suite has a floor-to-ceiling goldleaf-trimmed mirror, used for inspecting one's attire before heading out for an evening on the town. Naturally this amount of splendor induces considerable guilt in a 'country boy' who was raised 'Southern Baptist in a small town in Alabama. (20 September 2013)
Why is this street closed?
On Sunday morning in Cluj-Napoca, I decided to look for the computer science department at Babes-Bolyai University, this country's largest higher education institution, enrolling over fifty thousand students. My iPhone's GPS system said it was only an 8-minute walk from my hotel. So I strolled past a medieval tower, with walls 30 feet tall, then down a narrow street of century-old academic buildings bearing signs marking them as 'Musik' school, 'Teologie' school, and past the J. F. Kennedy Library of American Studies (i.e., 'Biblioteca de Etudii Americane').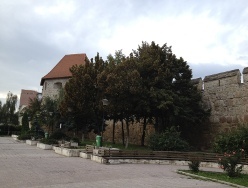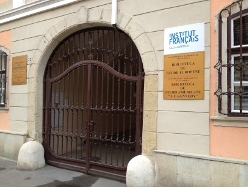 Just as my GPS told me I was around the corner from the CS building, my route was interrupted by a frail length of string, at waist-height from wall-to-wall obstructing the road, clearly to block it from being entered. Of course I could easily have ducked beneath it, but being in a foreign country I wasn't sure what consequences might ensue, so I decided to just go around the block. And, indeed, there was the CS building, just as in a photograph I had seen online back home. It's a large, imposing multi-level structure taking up the full width of a city block, at whose far end I now could see why that street had been temporarily blocked off. A movie crew was filming, with a large amount of lighting equipment and reflective canvas amid the roadway. A gang of maybe two-dozen student-age technicians was intently at work, and a gorgeous young actress, elegantly dressed, was being primped by a make-up artist for her next film scene. The student with the megaphone yelled "Atenzie!" and then, a moment later, to my surprise, he yelled in English "Action!" as if this was all happening in Hollywood, California. (22 Sept 2013)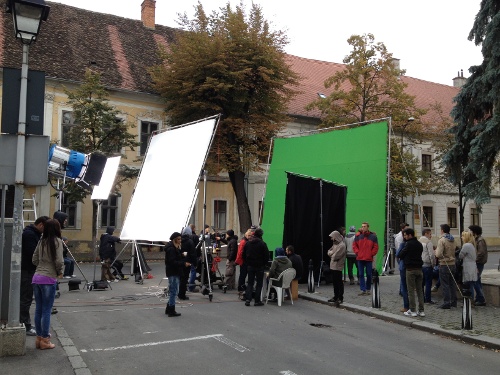 Let sleeping dogs lie
There was much controversy going on in Bucharest, the capital city of Romania, during my visit there in mid-September. I don't know if it got reported in the U.S., but it was widely covered in Europe. Two weeks earlier a 4-year-old boy and his 6-year-old brother were playing near a city park when they were attacked by a pack of stray dogs. The 4-year-
old was bitten to death and his older brother was injured. The publicity sparked a debate in Parliament and resulted in legislation authorizing euthanasia for the estimated 60,000 stray dogs who roam free around Bucharest. How did this city end up with 60,000 dogs who do not have owners and survive by begging and scavenging? It has a sad history. During the mid-1980s, when Romania was governed by a communist dictator, many families kept a guard dog to secure their property. When dictator Nicholas Ceausescu decided to demolish homes in a broad area of the city, in order to construct a 'Palace of the People' with 1,100 ornate rooms, the second largest building in the world, the residents of the demolished homes were forcibly relocated to small apartments in block highrise buildings which could not accommodate pets, thus dogs got abandoned and by now have multiplied to an immense population. Mostly these dogs behave in a peaceful manner, as you can see in this photo I took with my iPhone camera on a calm Sunday morning there: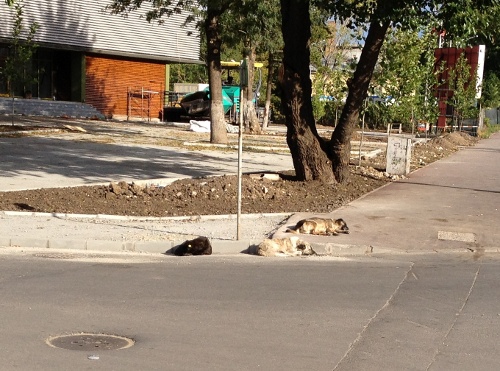 But sometimes, as my cab driver explained to me on our way to the airport, an unexpected noise or sudden movement will 'spook' one of these dogs, and its barks will quickly attract lots of the other dogs it regularly roams with, who then all join in angrily attacking whatever they perceive to be an immediate threat. In the case of the 4-year-old who was killed, one witness reported seeing the 6-year-old brother chasing one or more of the dogs with a large stick. One hospital in Bucharest, which handles infectious diseases, reported that it had treated 9,760 people for dog bites during the first eight months of this year. The initial vote in Parliament to begin killing the city's stray dogs was 226 to 23, with 21 abstaining. Reports of that draft-law provoked outrage from dog-lovers in other countries across Europe, and now a number of dog-rescue organizations have sprung up to try and save as many of the Bucharest strays as possible. Ever since I got interested in learning about Romania, I've been encountering dramatic stories about situations of daily life like this that we seem not to have experienced in the USA. Hence visiting Romania, for me, has been a rich education. (2 October 2013)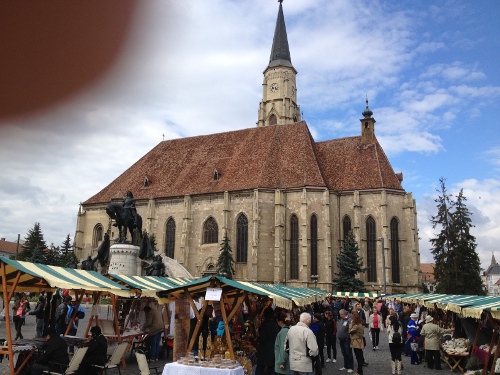 A young vendor makes his sales-pitch
My Cluj-Napoca visit coincided with a three-day happening in Piata Unirii called Transylvania Fest, which was a festival of regional food and culture featuring outdoor stalls where a hundred or more vendors exhibited for sale their homemade foods, fabrics, pottery, carvings, jewelry, kitchen implements, traditional costumes, and other items produced by local small-scale industry craftsmen. A short teenage boy, nicely dressed, who spotted me admiring the Saint Michael's Roman-Catholic Church, strode over and confidently started a conversation in English. He had a very large, heavy, and handsomely-bound book to show me which contained spectacular color photographs of Romania's many churches, each accompanied by a history, which he thought I might like to purchase. Many thoughts ran through my mind, such as where such a book might have come from, and how could I possibly fit such a weighty and oversized treasure into my little suitcase. It looked like something one might expect to see at Oxford University's rare book collection. We never got to the point of discussing a price because, as he flipped past some pages of text, he candidly pointed out that all of it was in Romanian. When I explained apologically that I wasn't able to read that language, he gracefully concluded our conversation, then strolled away to look for another potential buyer. What impressed me about this encounter was the young man's poise, his politeness and non-aggressive salesmanship, his skill with English, and his candor in voluntarily mentioning the possible language impediment, which he must have known could kill his sale. So I concluded that, despite his young years, he likely had accumulated a considerable amount of previous experience initiating street-sales with strangers who were decades older than himself. (21 September 2013)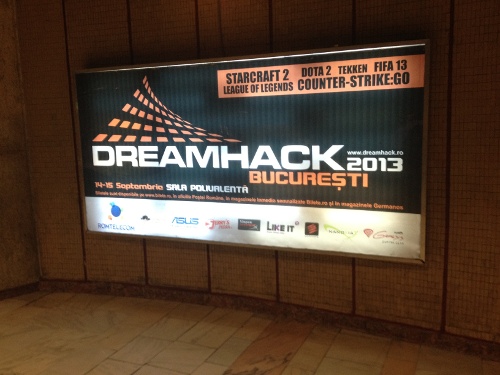 Checking out the "world's largest" computing festival
One aim of my Bucharest trip was to check out DreamHack, a two-day international computer-gaming competition being held Saturday and Sunday at Sala Polivalenta in Bucharest's Tineretului Park, touted by Wikipedia as "the world's largest computing festival" according to a Guinness World Record citation. Even though Logitech, AMD and Intel Corporations, all based in the SF Bay Area, were prominent sponsors of DreamHack in Bucharest the previous year, no one I'd talked with in San Francisco had heard of DreamHack, not even former students in CS who're now working full-time as game-developers in Silicon Valley. I wondered if maybe this was yet another instance where a significant event in Romania was being overlooked by our mainstream media, so I trekked over to Tineretului Park to see for myself, on Saturday, then again on Sunday, but, alas, I fear my observations were inconclusive.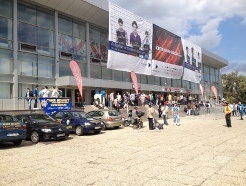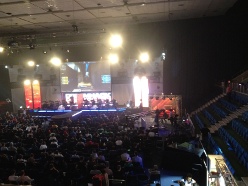 &nbsp Outside DreamHack Saturday afternoon &nbsp &nbsp Inside DreamHack on Sunday morning

An article on Monday in the ROMANIA-INSIDER online newspaper said: "DreamHack brings 10,000 tech-fans to Bucharest," and indeed Sala Polivalenta is capable of seating 12,000 people for concerts, i.e., when its main floor is not being used as the playing court for a sports event. Although the main floor was packed with audience members when I was there around 11am Sunday morning, I did obseve many empty seats in the upper level bleachers, so I looked for some stairs. The hall's lobby was crowded with gaming equipment and exhibits, with small gangs of youngsters huddled about, watching the various demonstrations, absorbed with testing the newest gadgets. Outside, the parking lots had been nearly filled, and a steady stream of buses and taxicabs were arriving to let passengers out and pick up new ones. So it was indeed a big event, though not as intense as some computer exhibitions and conferences I had attended back in San Francisco at Moscone Center. It's possible, of course, that I wasn't at DreamHack at the right time of day to observe its best-attended sessions, at which the game-contests reportedly were offering enticing prizes that amounted altogether to almost $70,000. Visitors came from Russia, South Korea, Denmark, Sweden and Bulgaria, among other countries, to watch 200 professional gamers compete for prizes, and for international fame, according to the press reports. The game underway as I sat down to watch was Counter-strike: Global Offensive, a very popular recent multi-player release in which a team of terrorists combats a team of counter-terrorists. Because, in the darkened hall, I had not seen any signs giving seating-directions, I made the mistake of choosing a seat in a reserved section of the bleachers, and after only a few minutes a young security officer came over and spoke to me, quietly and very politely, but when he realized I did not understand Romanian, he cut to the point by saying, in a firm tone, "V. I. P." and motioning for me to get up. I then headed toward a seat nearby, which he nodded was OK. Looking around, I saw that most in the audience were males, just as Wikipedia had reported from previous years, with a few college-age audience-members sitting next to their girl-friends. Most of the guys seemed pretty interested in following the progress of the game, but their girl-friends looked mostly bored. The slightly chilling thing that happened, as the game-in-progress concluded, was a thunderous cheer from the audience for the game's victorious team: they were cheering for the terrorists! So it felt good, at that moment, to remind myself that this was "just a game." (18 October 2013)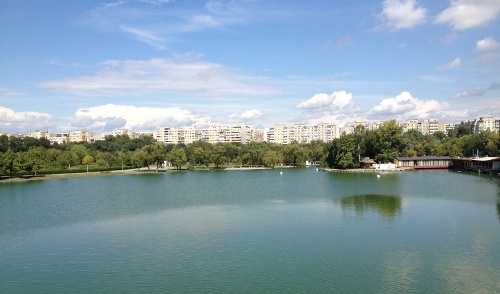 Ursus - the King of Beers in Romania
It would be possible in Bucharest to walk from my hotel near University Square to the DreamHack festival in Tineretului Park, a distance of less than 2 miles, but it would take 30 to 40 minutes, and the underground metro could get me there in about five minutes, for a cost of only 2 Lei (or about 62-cents). Across the street from the Tineratului metro station is the Park's entrance, where a long traffic-free walkway, the width of a city street, goes all the way to Sala Polivalenta, crossing a bridge over Lake Tineretului along the way, and looking northward from that bridge I got the photo (above) of Bucharest's glistening white skyline. Before reaching the bridge, though, I had to pass these red-canopied tables where Bucharest's 'SeptemberFest' beer-celebration was happening: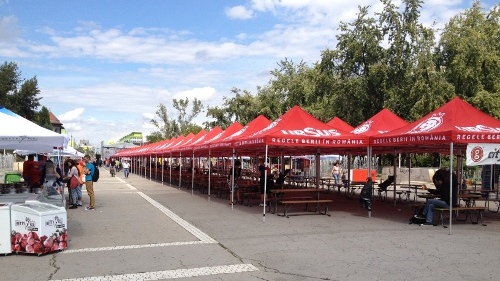 An orchestra was playing, sandwich vendors were selling, and glasses of chilled draught beer from Romania's Ursus brewery were offered for a surprisingly low price. A cute advertisement that Romania's tourism bureau had launched in England, to lure British visitors, said "Our beer is cheaper than your bottled water!", and evidently that was true. What surprised me about this SeptemberFest in Romania was the absence of legal restrictions on sales and consumption of alcoholic beverages so customary in the United States. Here SeptemberFest was a relaxed out-of-doors event for families, and I saw mothers with their infants in strollers passing by right in front of policemen who were patrolling and chatting rather indifferently in teams of twos and threes. A father seated at one of the tables dispatched his 7-year-old daughter over to one of the kiosks to buy him a beer and bring it back to his table along with some change. The young lady who was selling the beer acted as though it was quite normal to hand over the mug of beer to a child! "Allan, this is the way it's always been," a Romanian woman told me when I recounted that scene, so evidently it's the U.S. whose alcohol customs and restrictions seem a bit peculiar. (23 September 2013)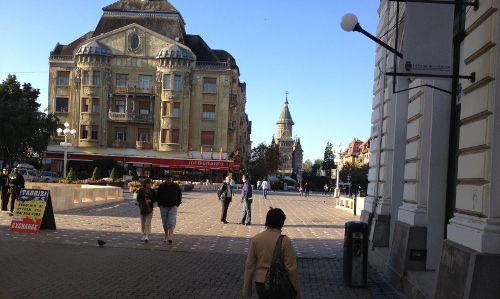 A Romanian version of McDonalds
Actually I had a research reason for wanting to dine at least once at a McDonalds in Romania, and yonder was this one, at Victory Square in Timisoara's Centru District, in the lower level of a once grand five-story building whose upper facade had gotten scarred by bullet-holes from the 1989 revolution. The restaurant was already busy an hour before noon, with three short customer-lines at the counter. Its menu-signs showed several items I'd never seen at a McDonalds in the U.S., but when I asked in English for "a hamburger and a chololate shake," the young Romanian woman taking my order understood me immediately and told me I would owe 7.8 Lei, which amounted to about US $2.40, roughly half of what I recalled paying for that order back home. I think such price-comparisons help to explain a paradox I've encountered, whereby Romania frequently has been portrayed by our mainstream media as "one of the poorest" of the European Union's countries, and yet the people I was seeing in Romania's major cities didn't appear to be "poor" at all: indeed those I saw of student-age were, for the most part, wearing designer-label clothes. (27 October 2012)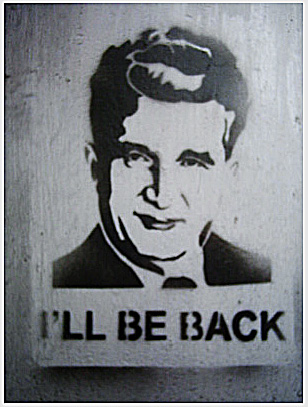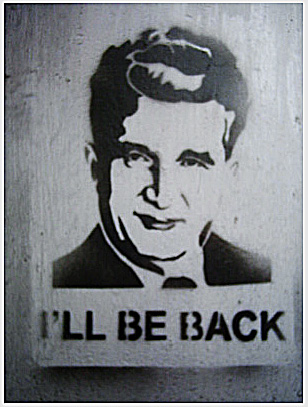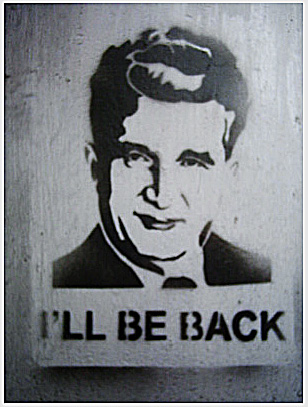 Dracula was dead, but Ceausescu's aura endured
While there for two-weeks in mid-September, I did not hear anyone mention Romania's 15th-Century ruler Vlad Tepes (a.k.a. "Dracula"), but not a day passed without the country's former dictator Nicolae Ceausescu being either mentioned in a conversation or depicted in some outdoor graffiti or in a television film-clip. In Constanta my taxi driver said, commenting on his childhood, "I was already 15 when the '89 Revolution happened, so I feel as though my entire childhood was lived in the dark. Under Ceausescu each family was allowed only one 40-watt light bulb, and in the evenings, whenever we went from one room to another, we had to unscrew that bulb and take it with us if we wanted to have any illumination." In Bucharest my driver told me how, as a college student during the dictatotship, he'd been put into prison because of voicing some ill-advised political opinions. "I got out after several months only because a friend who knew me from childhood was in the Securitate, and he was able somehow to get me released."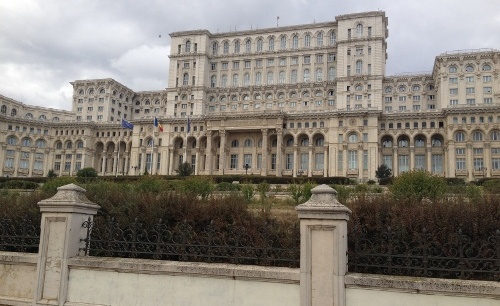 Not everyone I spoke with voiced a negative opinion of Ceausescu. One middle-aged man at the Gara de Nord railway station said that he misses the days of Ceausescu "because under the communists everyone had a job and a place to live rent-free." And during a layover at the Amsterdam airport, an older Romanian businessman on his way home to Bucharest went even further, saying "Ceausescu was a great man; I admire him -- he really built something!", but I believe his was a minority opinion. Younger people I encountered, those under 30, knew of Ceausescu, of course, but spoke of him with a certain detachment.
(3 November 2013)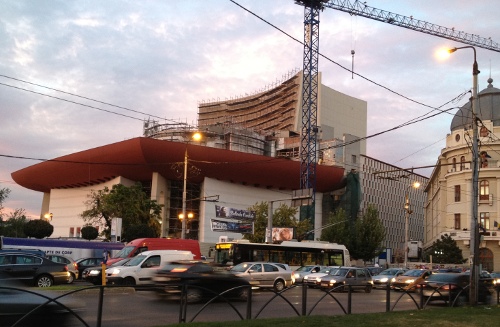 This city is restoring and rennovating
Looking northward from Piata Universitatii I saw more evidence of the energic rennovation that was happening in various parts of Bucharest. Here at 'Kilometer Zero' marking the center of the city a new and more modern facade was overlaying and obscuring the 1980 communist-era architecture of the National Theater. Still visible next door is a classical domed pre-communist administrative building, which today houses the Agriculture Payments and Intervention Agency (APIA). Several blocks away, on Stavropoleos Street, I had just strolled past the famous Caru cu Bere restaurant which was open for business and was packed with lunchtime diners at its outdoor sidewalk tables, even though its upper floors were covered with canvas as restoration-work on stone facing was underway. Just as I rounded the corner at the end of that block I encountered a well-dressed man leading a tour group who spoke to me with a question: "Caru cu Bere?" he asked, pointing around that corner. I was pleased that I understood what he was asking me, and pleased that I knew how to respond. "Da," I nodded, and "Multumesc," he replied with a smile. My first time for a spontaneous conversation, accomplished completely in Romanian! &nbsp :-) &nbsp (23 September 2013)





This page is under continuing development.
Launched on 13 SEP 2013; last updated on 19 NOV 2013