Curator: Dr. Allan B. Cruse, Professor Emeritus, Computer Science and Mathematics, University of San Francisco

&nbsp &nbsp &nbsp &nbsp &nbsp &nbsp &nbsp &nbsp &nbsp &nbsp &nbsp &nbsp &nbsp &nbsp &nbsp &nbsp &nbsp &nbsp Links to some internet resources
&nbsp &nbsp &nbsp &nbsp &nbsp On Europe's Last Communist Dictatorship

"It was a time where human freedom was denied, people lived in poverty,
basic food products were scarce and electricity was rationed. ... Looking back, I don't
know how people survived."
Cristina Mihailescu, a 2014 Baruch College New York scholarship winner, who fled communist Romania
in 1987, quoted in TIMES-NEWSWEEKLY.com, 8 May 2014



"Those of you who've had the good fortune to be born in the United States
simply have not known the absence of freedoms. You can only imagine, but not experi-
ence, what it's like to live in a society where these freedoms are absent."
Romania-born Chief Judge Alex Kosinski, U.S. Ninth Circuit Court of Appeals, February 2013


Biography of Romania's dictator Nicolae Ceausescu
Execution of Nicolae and Elena Ceausescu (Dec 1989)
Nicolae Ceausescu's Final Speech (21 Dec 1989)
Remember Nicolae Ceausescu's Romania?
Irish TV coverage of 1989 Romanian Revolution
Romania 1990: After the Revolution
Romania 20 years after Ceausescu - 25 Dec 2009
How to Make a Revolution -- Andrei Codrescu reflects
on the 1989 events in Romania - 9 Dec 2009
Georgetown University Professor Dennis Deletant:
Some observations on the Romanian Revolution
of December 1989 (Spring 2012 seminar)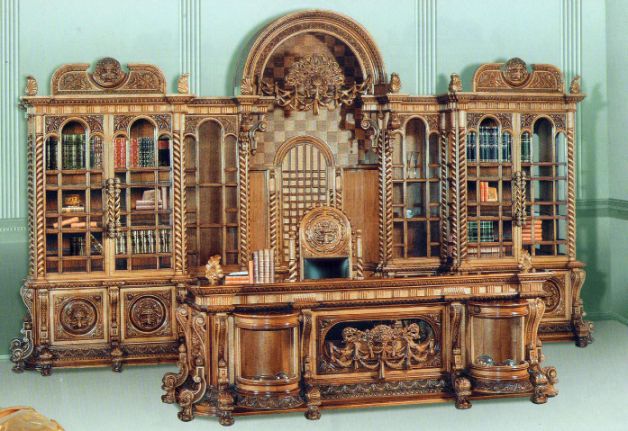 This surprise gift for Nicolae Ceausescu on his 72nd birthday -- a desk for his office in the
Parliament Palace, the world's second-largest building -- which Ceausescu did not live to
enjoy, as he was executed in the December 1989 revolution, a month before his birthday.


Website launched on 26 MAR 2013; last updated on 12 JUL 2017
This website is under continuing construction.