Curator: Dr. Allan B. Cruse, Professor Emeritus, Computer Science and Mathematics, University of San Francisco

&nbsp &nbsp Some Recurring Festivals in Modern Romania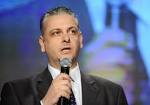 "I think that everybody has already been to Spain, Italy and
France. It is time they came to Romania, Moldova and Bulgaria."
Cristian Petrescu, former Romanian Tourism Minister, quoted in ROMANIA-INSIDER, 8 July 2013



| | |
| --- | --- |
| | The George Enescu classical music festival is a multi-week international celebration which occurs in Bucharest, and certain other cities in Romania, during September in odd-numbered years. First organized in 1958, three years after Enescu died, this festival now is undoubtedly the most famous classical music event held in Eastern Europe. |
George Enescu Festival 2011

| | |
| --- | --- |
| | The Sighisoara Medieval Festival is a multi-day event, late in July, in the historic fortified town of Sighisoara, featuring costumes, music, dances, foods, crafts, games, and rituals from the Middle Ages, including contests between combatants armed with wooden swords and metal helmets, and skill-displays of horsemanship and archery. The 2012 festival was arranged under the high patronage of the Royal House of Romania. The festival normally attracts between twenty and thirty thousand visitors. |
Sighisoara Medieval Festival 2012
| | |
| --- | --- |
| | The 10-day Sibiu International Theater Festival has become the leading arts festival in Romania, and is among the most prestigious such festivals in Europe, being organized in recent times under the high patronage of the Romanian Presidency and of the European Comission, attracting artists and audiences from every corner of the earth. |
Sibfest 20th anniversary Sibiu International Theater Festival 2013
| | |
| --- | --- |
| | The Transilvania International Film Festival was established in 2001 by Romanian producer Tudor Giurgiu, in his home city of Cluj-Napoca, with the aim of showcasing the outstanding cinematography being ceated by youthful and imaginative European filmmakers. Seminars, workshops, panels, concerts, and night-long parties have brought growing fame and size. During its ten-days in 2012 TIFF screened 240 films from 46 countries and attracted more than 67,000 attendees. |
Romania - Transilvania International Film Festival 2012
| | |
| --- | --- |
| | The Dacian Citadel's Festival takes place yearly in Alba County, in central Romania, and features the staged reenactment of a battle, from the time of Emperor Trajan, between two teams of fighters, wearing costumes of the period, and representing the armies of Rome and of Dacia. |
Romans versus Dacians - Historical battle reenactment (2013)
| | |
| --- | --- |
| | Septemberfest is an annual three-day beer and music celebration held in Cluj-Napoca, Romania, sponsored by Ursus Breweries, producer of one of Romania's top-selling brands of beer. |
Septemberfest 2012 - performance by Gheorghe Zamfir and Bere Gratis
| | |
| --- | --- |
| | Maidens' Fair is a major folk festival dating back at least two centuries, held annually on the third Sunday in July at Mount Gaina, attended by tens of thousands. Originally rural families would bring their adolescent children so the young men could choose their future wives. Events include feasts, handicraft exhibits, costume making, songs and chants, dance competions, and concerts by folk bands and mountain musical instruments. |
Romanian Folk dance at Mount Gaina Maidens' Fair in 2009
| | |
| --- | --- |
| | B'ESTFEST is a 3-day multi-genre music festival held the first weekend in July at Tunari, Romania, in a large open field on the outskirts of Bucharest. This Summer Camp festival, begun in 2007, has become the sole Romanian international festival recognized in the music industry as among the largest events of its kind in Central and Eastern Europe, bringing over 200 artists from all around the world in front of an estimated 64,000 people. |
Best of B'ESTFEST Summer Camp 2012
| | |
| --- | --- |
| | The Bucharest International Experimental Film Festival is an annual six-day event in November featuring innovative films by directors from many parts of the world, organized under the auspices of Romania's National University of Theater Arts and Cinematography, with a multitude of private sponsors. |
Empty Rooms (trailer) - a sample entry from BIEFF 2012
| | |
| --- | --- |
| | Dragobete, the Romanians' equivalent of Saint Valentine's Day, is celebrated on February 24th. According to ancient legend, boys and girls who gather flowers and sing together on this day are supposed to be protected from illness and fevers throughout the remainder of the year. |
Dragobete 2012 - Angela Gheorghe with Holograf band - "No more time left"
| | |
| --- | --- |
| | The Romanian-American Music Days Festival is an annual multi-day and multi-venue summer event, begun in 2004 by Romanian-born violinist Daniel Szasz and collaborating musicians in the State Philharmonic Orchestra of Sibiu, Romania. Although a native of Sibiu, Szasz now resides in the United States where he is concertmaster with the Alabama Symphony Orchestra. This festival is a vehicle for fostering ties between American and Romanian music professionals by affording them these opportunities to perform together. |
Romanian-American Music Days Festival 2009 - Thalia Hall, Sibiu - "Fever"
| | |
| --- | --- |
| | Michael Jackson Day on August 29th has been regularly celebrated in Bucharest, since the late singer's death, with flashmob-type performances of a synchronized streetdance by groups of fans who imitate the late singer's dress and manner, repeated at multiple city sites throughout the day. |
Dancing the Drill - Official Tribute to Michael Jackson - Bucharest (2010)
| | |
| --- | --- |
| | The Transilvania International Guitar Festival is a six-day gathering in Cluj-Napoca, Romania, of guitar enthusiasts, both players and fans, held during early August. Begun in 2002, this festival features lectures and seminars, plus ensemble and solo competition in several age-categories. |
Transylvania international Guitar Festival: Mihai, Vlad, Stefan (2009)
| | |
| --- | --- |
| | The International Animation Film Festival, held in Bucharest in early October, is a multi-day event promoting cartoons and animated movies through competition among entries submitted from around the world, with the aim of encouraging production of animated films by Romanian movie artists. The anim'est festival, currently in its Eighth year, gets funding through a non-profit cultural association. |
Anim'est 2013: Bucharest hosts animation industry forum
| | |
| --- | --- |
| | The first Timisoara Tango Festival took place during a three-day weekend in late May 2013, attracting enthusiasts and novices from around Romania and across Europe, with lessons and exhibitions by argentine tango maestros. |
Timisoara Tango Festival 2013 - instructors Lucian Stan and Monica Sur
| | |
| --- | --- |
| | Electric Castle Festival, begun in 2013, quickly became an annual multi-day July event, held on the gounds of the 15th Century Banffy Castle in Cluj County, Romania, featuring extreme sports, audio-visual workshops, and a large variety of music, drawing nearly 80,000 attendees in 2014 to hear well over one hundred artists. The Banffy castle was sadly neglected during Romania's 40 years of communism, but now is being restored as a cultural center by the Transylvania Trust. |
Electric Castle Festival 2014 - Official aftermovie
| | |
| --- | --- |
| | The first annual East European Comic-Con, a non-profit multi-genre pop culture gathering, was held 30-31 March 2013 in Bucharest, at Palatui Copiilor (Romanian National Children's Palace), reportedly attracting 9400 visitors to its exhibits, games, seminars, and Cosplay costume contest. Legendary British actor John Rhys-Davies, who starred in Lord of the Rings, was celebrity guest. |
John Rhys-Davies conducts a Q&A at EECC 2013, Bucharest
| | |
| --- | --- |
| | Fusion Festival is an annual 2-day music event which features large scale visual effects, lasers, projections, architectural lighting, pyrotechnics, fire breathers, acrobatic break dancers, sexy robot girls and amateur music electronic beams. The open-air festival is held in a large canyon at the base of the Gura Riului dam, located about eleven miles southwest of Sibiu, Romania, and reportedly attracts an estimated 5000 fans. |
Fusion Festival Romania 2013
| | |
| --- | --- |
| | Announcement of the first annual Transylvanian Bike Week began appearing in newspapers and biking publications in the first half of 2013, to take place in Faragas, Romania, on 24-28 July. This festival's program includes motorcycle exhibits, parties, parades, live concerts and traditional products tasting, with name bands performing. |
Transylvanian Bike Week 2013 - promotional video
| | |
| --- | --- |
| | DreamHack is an annual international computer gaming competition and festival, begun in 1994 in Sweden, but held for the first time in Bucharest, Romania, during two days in October 2012, with a prize-pool which exceeded USD $20,000. |
This video documentary, filmed at DreamHack 2012 in Bucharest, features several interviews with dedicated gamers, and included one who was an English-speaker.
| | |
| --- | --- |
| | Fan Fest is an annual festival in Rosia Montana, Romania, now in its 8th year, devoted to culture, nature, people, heritage, and to social activism in opposing destructive exploitation of landscape by a toxic gold mining project through an alternative plan of economic development based on tourism. |
Fan Fest - Rosia Montana, Romania (2012)
| | |
| --- | --- |
| | International Poetry Nights at Curtea de Arges, Romania, is an annual six-day festival, set up in 1997 to showcase world poetry, bringing together poets from every continent. In addition to poetical performances, there are art exhibitions and book releases, traditional Romanian music and folk dances, visits to historic fortresses and castles, and trips into the nearby Carpathian Mountains. |
Views from the International Festival of Poetry Nights at Curtea de Arges (2011)



Webpage created on 03 JUL 2013; last updated on 01 AUG 2014