A few more updates from that nightclub fire's aftermath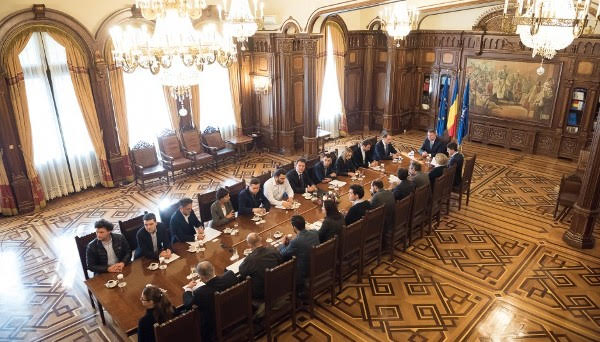 Romania's President Klaus Iohannis met yesterday (Friday) with the leaders from a wide variety of civil society groups in order to hear their opinions on what next steps the Romanian state should take to address issues raised during the past four nights of street protests, and to try and discern whether any consensus exists among these various groups.

A recommendation, that he should personally come to University Square in order to hear directly from protesters, he agreed to do, though he did not say when this would happen, probably because of concerns for security, although the street protests have thus far remained noisy but completely peaceful.

Meanwhile, Interim Prime Minister Sorin Cimpeanu, who served as the Minister of Education in the former Ponta cabinet, took the opportunity to report, in the interest of public transparency, that 93-percent of Romania's schools currently are operating without meeting fire safety authorization standards, and a similar report on Romania's hospitals is now being prepared and will be made public very soon, he said.

The death toll from last weekend's nightclub fire at Club Colectiv has risen from 32 to 39, and may climb further as those victims currently hospitalized include many who are in critical condition.

International fundraising campaigns to raise money to pay for the expensive hospital care of about 80 surviving burn victims were launched by an assortment of sectors in society, from musical groups to the red cross to professional organizations. A number of those injured have been flown to the Netherlands for specialized care in hospitals better equipped to aid in treating their particular wounds.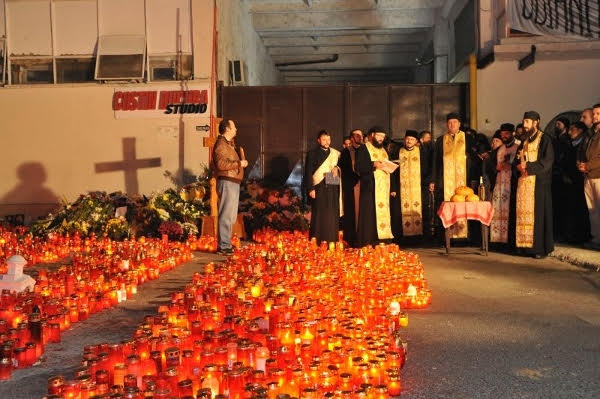 The Romanian Orthodox Church has now held a memorial service at the site of the fire, and Andrei Rieu, a prominent violinist from the Netherlands, flew to Bucharest earlier today to visit the Club Colectiv site and honor the fire victims.

A young mathematician from Romania, who I met a few months ago here in San Francisco, and who is visiting Bucharest right now, sent me this email last night:

"I met with a few friends who knew people that were inside the nightclub that night. Definitely a lot of people helped as best they could the Saturday after.
One of my best friends from school was a regular at that place actually and he was shocked and grateful to not have gone that night."

So, thus far there's a fragile hope that this horrible fire accident will galvanize the country to implement transformative changes regarding long-entrenched corruption-practices and neglectful government operations. If this happens, I foresee Romania becoming a kind of "model", or case-study, for other parts of the world (including Mexico) where young peoples' talents are stymied by oligarchs and compromised elected officials.

ALLAN CRUSE
07 NOV 2015


UPDATES:

Twelve patrons who had suffered severe burn injuries during the Colectiv Club blaze were flown by NATO on Sunday (Nov 8) to hospitals in the UK and in Norway.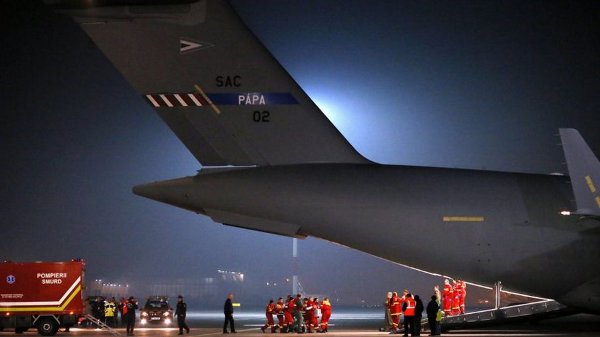 Bogdan Enache, the drummer of the band playing at Club Colectiv, was put on a military plane to Swizerland, but when his condition worsened in flight, pilots turned back to Romania, and Enache died shortly after his plane landed, the BBC said.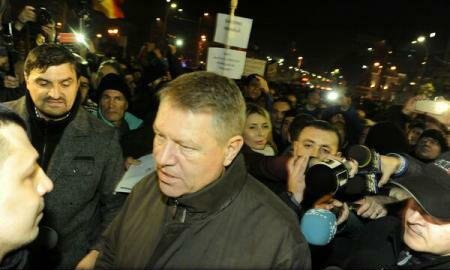 Also, as promised, President Klaus Iohannis visited University Square on Sunday evening (Nov 8) to speak directly with the protesters on their sixth consecutive night of demonstrations. According to the Romanian News Agency AGERPRESS:

Iohannis stood in the middle of the protesters of University Square for about 20 minutes, talking directly with them and not delivering any speech, although many protesters asked him to address the crowd through a loudspeaker. ...

"I don't want to make a media event out of it, but I want to go talk to the common people who are in the [University] Square, to tell me what they expect of me, what they expect of the political class," Iohannis said.