The USA has commented on Sunday's presidential election

&nbsp &nbsp &nbsp &nbsp &nbsp &nbsp &nbsp &nbsp &nbsp &nbsp &nbsp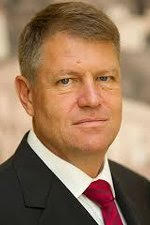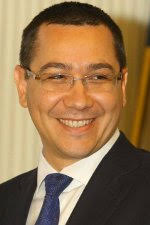 &nbsp &nbsp &nbsp &nbsp &nbsp &nbsp &nbsp &nbsp &nbsp &nbsp &nbsp &nbsp &nbsp &nbsp Klaus Iohannis - 30% &nbsp &nbsp &nbsp &nbsp &nbsp &nbsp &nbsp Victor Ponta - 40%

Last Sunday was Election Day in Romania. Over 52-percent of those eligible to vote were reported to have cast ballots for the next President of Romania. Altogether there were 14 candidates for that office, but unsurprisingly in a field so large none received an absolute majority. Hence a runoff election will take place Sunday, November 16th, between the two top candidates: Victor Ponta, currently Prime Minister of Romania, who received roughly 40-percent of last Sunday's votes, and Klaus Iohannis, who currently is Mayor of the Transylvanian city of Sibiu, who received about 30-percent of the vote total. .

Besides the large turnout, there were a few other anomalies in this election.

The current President, Traian Basescu, who has held office during two 5-year terms and is ineligible to seek a third term, stated publicly that, in his opinion, neither of the top two vote-getters was worthy of becoming President. But he is known for making attention-getting statements, including saying that Romania's former monarch, the 90-year-old King Michael, was a 'traitor' to the country -- a remark he apologized for making later.

Also unusual is the fact that 3 million Romanian citizens reside outside the country, and a large percentage of them have a right to vote under Romania's Constitution. Their numbers are great enough to sway the outcome in close elections, and indeed that is what happened in the previous presidential election, resulting in Basescu's assuming the office, even though a majority of those voters who actually live in Romania had wanted a different candidate.

But the most surprising election anomaly was the lack of enough ballots at polling stations in Paris, London, Milan, and other foreign Romanian embassies, resulting in many citizens abroad being unable to cast a ballot, even after reportedly standing in line for up to 8 hours in the rain.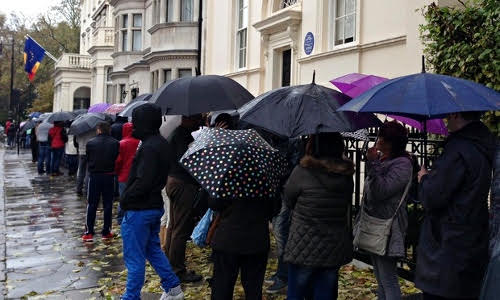 Romanians waiting to cast ballots at their Embassy in London (2 Nov 2014)

British and French police reportedly were needed in London and Paris to protect Romanian voting officials from the wrath of countrymen who were denied ballots as the polls closed.

Some Romanians believed that election officials had conspired to suppress the votes of Romanians abroad; others assumed it was simply an instance of "incompetence" on the part of inexperienced officials. In any case the Prime Minister immediately took the dramatic step of summoning Romania's ambassadors home for an emergency meeting in Bucharest to try and forestall ballot shortages in time for the upcoming runoff-vote scheduled barely a week away, and today his ministers announced an increase in the number of polling booths at the embassies abroad wherever enough floor-space would allow for it.

The United States posted the following statement on the website of its Embassy in Bucharest:

--------------------------------------------------------------------------------------------------------------------
United States Embassy - Bucharest, Romania
Statement on the Electoral Process
November 4, 2014

The electoral process is paramount in a democracy. We welcome the commitment of the responsible authorities to review procedures and make the necessary corrections to ensure that every citizen is able to cast his/her vote in accordance with the Constitution and the law.
--------------------------------------------------------------------------------------------------------------------

ALLAN CRUSE
07 NOV 2014