Game Scripting with Lua in Ogre
Today, we will play more with Lua scripting in Ogre. Download the file:
Note that this is an updated version of the OgreScripting project that we used last week, so redownload this one, don't use the old one.
Get the project compiling and running. If you run the program, you get a little cube that you can control with the arrow keys (hold space to move the cube faster). As before, you can bring up the lua console with the ~, and type in commands. One helpful command is print, which displays text on a seconday overlay -- try it out!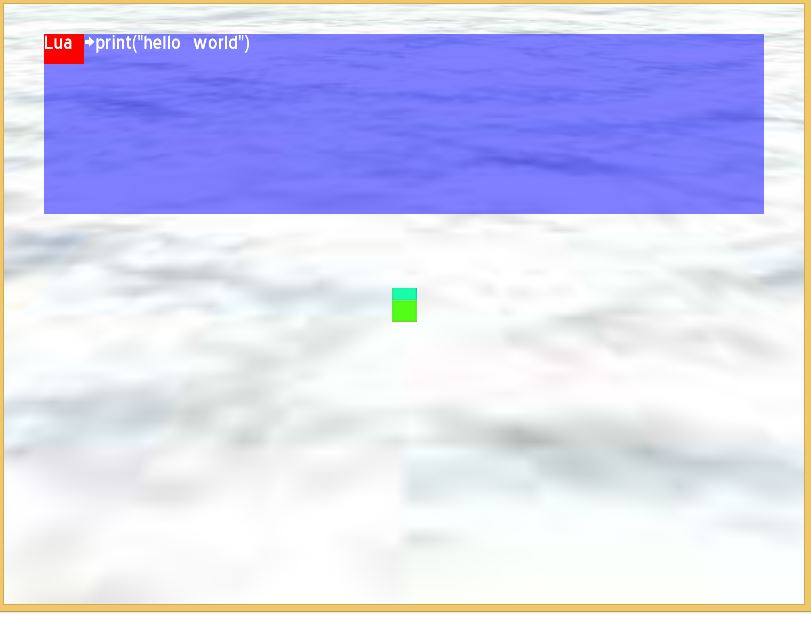 >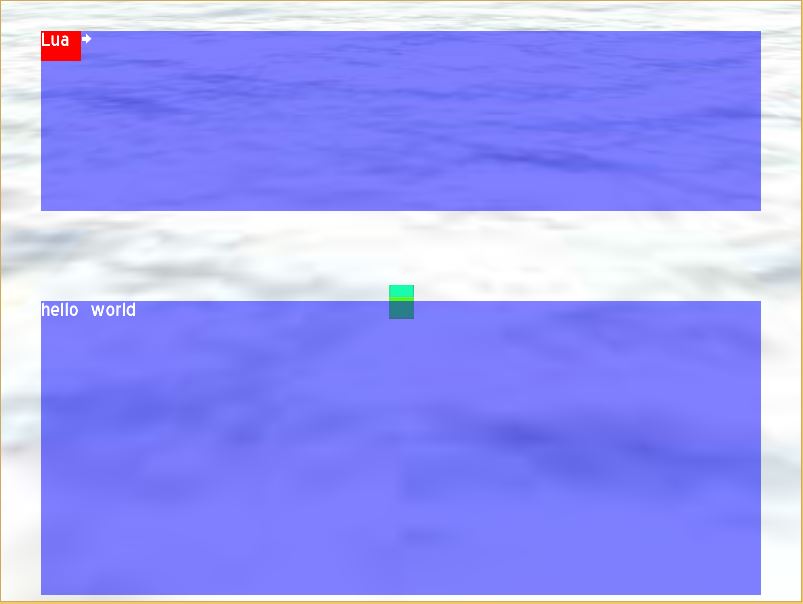 Also, there is now a help function, that prints out C++ functions that are exposed to lua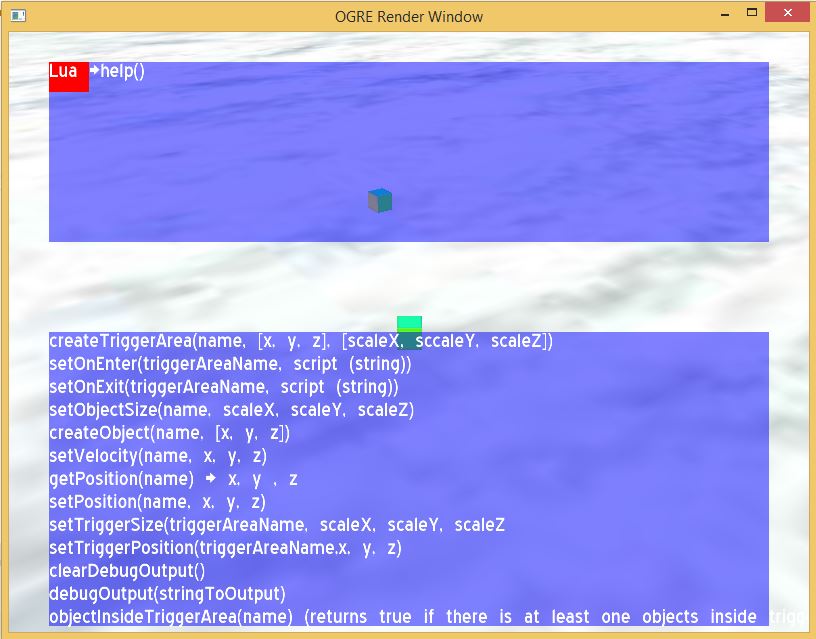 Exposed Functions
showFunctions() (also help()) displays all available functions
setDebugTime(time) sets how long debug messages remain
clearDebugOutput()
debugOutput(stringToOutput) You should use print, which calls debugOutput after converting to string
createObject(meshname, name, [x, y, z]) Create an object with the given name
setObjectSize(name, scaleX, scaleY, scaleZ) Set the scale of an object
setPosition(name, x, y, z) Set the position of an object
getPosition(name) Get the position of an object (3 valuse, x, y, and z)
setVelocity(name, x, y, z) Set the velocity of an object
createTriggerArea(name, [x, y, z], [scaleX, sccaleY, scaleZ]) Create a Trigger Area
setTriggerPosition(triggerAreaName,x, y, z) Set the position of a named trigger area
setTriggerSize(triggerAreaName, scaleX, scaleY, scaleZ) Set the scale of a named trigger area
setOnExit(triggerAreaName, script (string)) Set the script (that is, the lua code) to be called when an object enters a trigger area. The script may access the global variable triggerObject, which stores the name of the object that just enterred the trigger area. Note that the script must be a string, and not an executable (in lua) script. See examples below for use!
setOnEnter(triggerAreaName, script (string)) Set the script (that is, the lua code) to be called when an object leaves a trigger area. Note that the script must be a string, and not an executable (in lua) script. See examples below for use! The script may access the global variable triggerObject, which stores the name of the object that just left the trigger area
objectInsideTriggerArea(name) Returns true if there is at least one objects inside trigger area
addScript(script) Add an (anonymous) script to the script manager. This must be an executable script, not a string!
addScript(script, name) Add a named script to the script manager. This must be an executable script, not a string! Adding a script with the same name as an existing script kills the existing script
removeScript(name) Removes a named script
ScriptManager.lua
We've modified ScriptManager.lua a little since last lecture:

-- Our quick and dirty script system.  We maintain a global array of scripts.  
-- The Ogre Frame Listener calls our ScriptManagerThink function, which in turn
-- calls the Think methods on all active scripts.

-- A more robust scripting system would have an eaiser way of indexing scripts, and
-- activating / deactivating / removing scripts.  This is just quick and dirty enough
-- to work for now.


-- Our table of running scripts
GlobalScripts = { }

-- Method to add a script.

function addScript(script, name)
    if name == nil then
		table.insert(GlobalScripts, script)
	else
		GlobalScripts[name] = script
	end
end

function removeScript(name)
	GlobalScripts[name] = nil
end

function ScriptManagerThink(time)
    for i, v in pairs(GlobalScripts) do	   
	   if v:Active() then
			v:Think(time)
	   end
    end
end


-- Handy print method.  Use print instead of debugOutput, to avoid crashes 
-- for nil values and non-string values.
function print(x)
    debugOutput(tostring(x))
end



----------------------------
-- Script "Class" -- pretty straighforward for now, scripts have a Think method
-- and an Active method by default, and nothing else
-----------------------------
Script = {}

function Script.Active(this)
	return this.isActive
end

function Script.Think(this, time)

end

function Script.create()
	local s  = {}
	s.isActive = true	
	s.Active = Script.Active;
	s.Think = Script.Think
	return s
end

Sample Scripts
File Level1.lua

function destroySeeker(name)
	removeObject(name)
	removeScript(name .. "_script")

end



function createSeekerTrigger(name, x, y, z)
    x = x or 0
	y = y or z
	z = z or 30
	createTriggerArea(name, x, y, z)
	setTriggerSize(name, 10, 10, 10)
	setOnEnter(name, "if triggerObject == 'player' then  createSeeker('" .. name .. "_seeker', 50, 0, 50)  end")
	setOnExit(name, "if triggerObject == 'player' then  destroySeeker('" .. name .. "_seeker') end")
end

function createSeeker(name, x, y, z) 
	if name == nil then
		print("createSeeker:  name required!")
		return
	end
	x = x or 0
	y = y or 0
	z = z or 0
	
	print("Creating Seeker: ID = " .. name .. ",  Location: " .. tostring(x) .. ", " .. tostring(y) .. ",  " .. tostring(z))
	createObject("MyCube.mesh", name)
	setPosition(name, x, y, z)
	setObjectSize(name, 5,1,1)
	local seekerScript = Script.create()
	seekerScript.Think = function(this, time)
		local pX, pY, pZ = getPosition("player")
		local mX, mY, mZ =  getPosition(name)
		local deltaX, deltaY, deltaZ = pX-mX, pY-mY, pZ - mZ
		setVelocity(name, deltaX , deltaY, deltaZ)
	end	
	-- We are using the 
	addScript(seekerScript, name .. "_script")
end

createSeekerTrigger("testSeekerTrigger")

In-Class Exercise
Now to work! In the Content/Scripts folder, open up the level1.lua file, and extend it in the following ways
Create a door of some kind that opens when the player enters a trigger area. It can be as easy as a block that moves up (or to the left, or whatever)
Write a script that creates an orbiting object. Your script should take 2 parameters: The name of orbiting object that is created, the name of the object to orbit, and the distance of the orbiting object. So, you should be able to create a solar system as follows:


createObject("MyCube.mesh". "sun")
createOrbiter("earth", "sun", 100)
createOrbiter("moon", "earth", 50)


Create a trigger area, such that when an object enters that trigger area, an oribiter is created